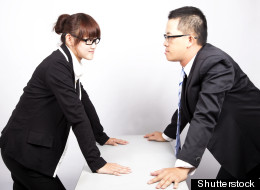 If you're looking to observe some fierce competition and intense rivalries, you needn't travel to London for the Summer Olympics Games. Just pop into an American office building near you.
A new survey released by OfficeTeam, an administrative staffing agency, found nearly half of senior managers at U.S. companies believe their employees are more competitive with each other today than they were 10 years ago.
While a little friendly competition in the office can be healthy, according to Robert Hosking, executive director of OfficeTeam, it can turn ugly.
"Rivalry between coworkers can often become more intense when the economy is uncertain and people feel pressure to prove themselves," Hosking wrote in a company press release. "Although it's natural for employees to want to stand out among their colleagues, it shouldn't be at the expense of others."
Source: Huffington Post | Harry Bradford