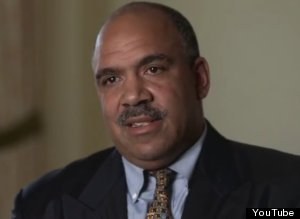 A faculty professor who filed a racial discrimination suit against UCLA, saying that the school ignored racial slights against him over his career, has taken to YouTube to air his grievances.
In a six-minute YouTube video, Dr. Christian Head, an otolaryntologist at the UCLA's medical school, says he was the subject of repeated criticism during an annual event in which residents performed mocking roasts of their professors.
"In the final slide was a photo…of a gorilla, on all fours, with my head Photoshopped onto the gorilla with a smile on my face," Head says in the video. "And a Caucasian man, completely naked, sodomizing me from behind, and my boss' head Photoshopped onto the person smiling."
Head later complained to his superiors at the hospital, but says he was told "if you want tenure, [and] make a big stink about this, they're going to crush you."
After he was awarded tenure, Head said that the university cut his pay in retaliation for his complaints and blocked him from teaching.
The video states that Head is the first and only African American tenured professor at UCLA's medical school. Late last month, Head filed suit against the California Board of Regents, the body that governs the University of California system. According to the L.A. Times, the suit specifically names Marilene Wang and Gerald Burke, who are also otolaryntologists. Head accuses them of making "inappropriate racial comments and insinuations about blacks" over several years.
Source: Huffington Post / Black Voices | Gene Demby